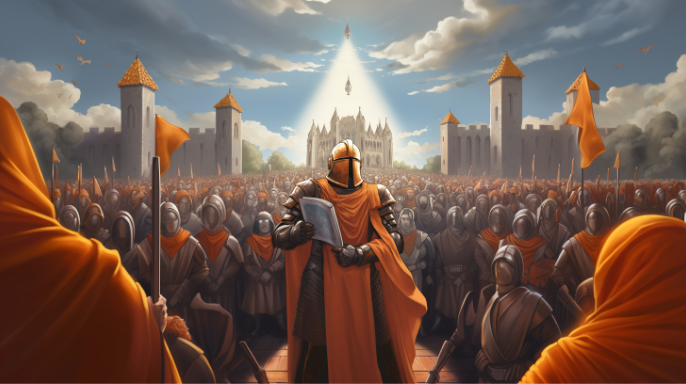 Curve wars have now been replicated by multiple protocols, namely Balancer, Timeless, Maverick, Alchemix and Yearn. 
Releasing a boost marketplace 18 months ago was a bet on this proliferation of ve-tokenomics that is starting to pay off. Our veSDT marketplace is constantly sold out, and capped simply by the number of users actually depositing in the marketplace. 
Warden v3, in process of being rebranded to Pledge, aims to help projects gather their needs of veBoost more efficiently by combining all the feedback we got from our users. 
What is Pledge ?
Pledge is the new name Warden v3, a non-custodial veBoost marketplace built to enable veToken holders to benefit from additional revenue streams while maintaining ownership of the asset and all its additional perks (gauge weight voting, governance power, admin fees…).
Initially built to maximize sophisticated farmers' yield, Pledge is slowly becoming a more generalized boosted utility marketplace powered by the innovation brought by Curve with veTokenomics.
What's new ? 
A better buying experience
We're offering a new way of buying boost. Instead of requiring sellers to register in the marketplace, buyers will be able to directly post the amount they require and sellers can pledge their boost at any point as long as it is available for sale. By canceling the need to register in the marketplace preemptively and moving the process to a peer to contract, we hope to grow the number of sellable ve-Boosts by a significant margin.   
More reward tokens
Until now, boosts had to be paid in its underlying token. This created a closed loop where buyers had to either sacrifice part of their holdings or their farming rewards in order to maintain the strategy. With this change, buyers can either use other tokens, from their treasury or other revenue sources, or even their own native token, provided it is liquid enough. 
Better time management for the sellers
Introduced in v2 with time limits for sellers, we switched things up by enabling buyers to make the first step. When joining a Pledge you know exactly the specific date at which your boost will be available again, creating more certainty in the boost selling landscape. 
What to look forward to?
As more complex tokenomics are deployed, we expect a massive growth in volume on Pledge which will imply explosive revenue for Paladin and its users.
Connect with us: