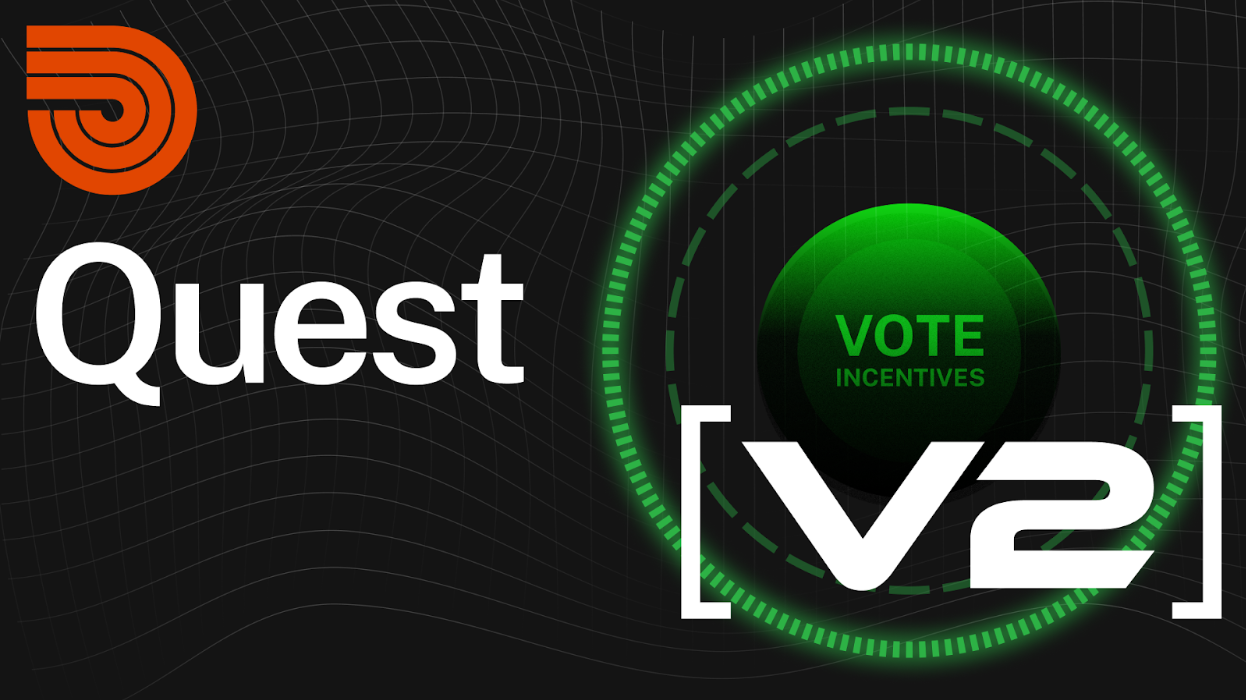 3 years ago DEXs captured less than 1% of crypto trading volume. It rose to over 20% and now sits at almost 15%. As DEXs continue to eat away at their centralized counterparts, one thing is certain, the backbone of DeFi matters more than ever. We're talking about liquidity, the lifeblood of decentralized finance.
But in the ever-shifting landscape, three AMM ecosystems have emerged as the pioneers of sustainable incentives: Curve, Balancer and Bunni. Their magic is the gauge system. A system to control the flow of native value, often leading to wars to capture available liquidity. 
Enter Quest V2 – the solution for projects to finely tune incentive campaigns for maximum efficiency. With it every gauge vote acquired is another step towards sustainability. 
Already, over $5 million in vote incentives have flowed through this innovative market, with 30+ clients reaping the rewards. You can too by synergizing with these key AMMs and the tools fueling their incentives. 

Liquidity Concerns in a Volatile Landscape
The DeFi market's intense volatility presents challenges for liquidity providers due to unpredictable price swings. Low market depth amplifies this issue, leading to higher slippage and increased trading costs. These factors, combined with potential token illiquidity, can deter market participation and hinder efficient trading.
Inadequate liquidity can eventually erode market trust in a token's value and usability. This challenge can be overcome by a capital intensive Protocol-owned-liquidity strategy where a project owns the liquidity it deploys. Or simply, liquidity can be rented by directly incentivizing community LPs. Both approaches are costly. 
An effective and economical alternative exists: vote incentives for governance stakeholders. Voters in Curve, Balancer and Bunni can direct emissions to your pools. All DAOs have had to do is deposit incentives for these voters. 
While simple, most DAOs overpay in incentives than they earn in emissions. To solve this, Quest V2 offers a range of options for customizing your campaign. This includes fixed and ranged rewards, cross chain, roll-over incentives and more! Reward the votes you successfully secure and be sure that each dollar spent captures emissions exceeding a dollar, bolstering the sustainability of your budget.
Your Edge: Quest V2 Masters Incentives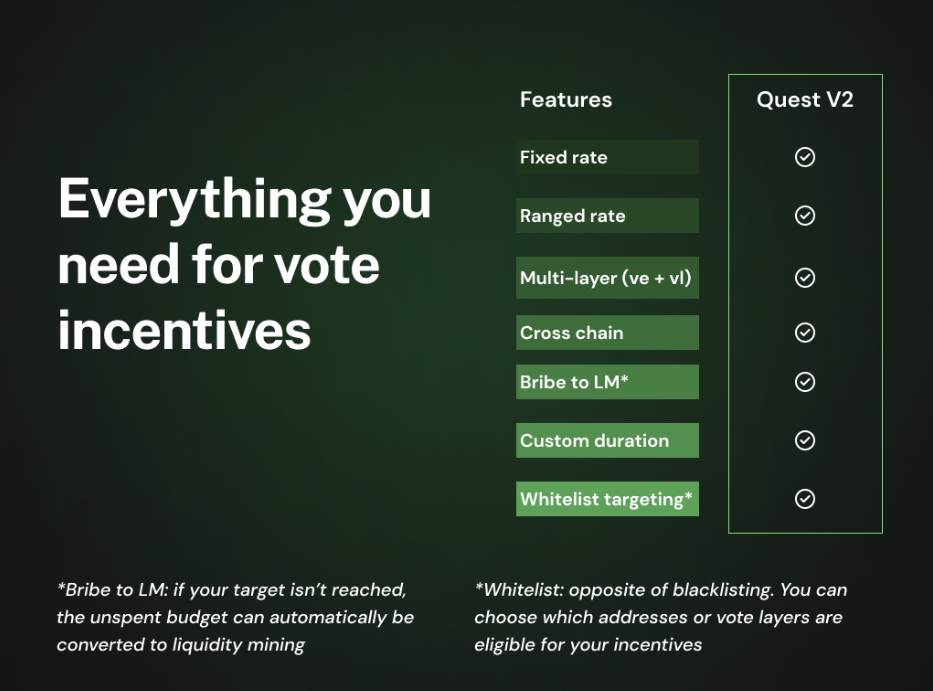 It's easier than ever to get the job done with Quest. Projects have the power to set their price per vote, thanks to fixed rewards. Now with V2, projects can give more flexibility with ranged rewards allowing voters to rest easy knowing whales can't nuke their APRs.
Tailor your strategy to any layer of the governance ecosystem – whether it's Curve or Convex voters – and decide if it's an exclusive campaign or open to all. Cross-chain gauges? Quest has you covered. Worried about unspent rewards? Automatically redirect them to your pool for liquidity mining with roll-over options. And for those special cases, whitelisting lets you strike deals with whales or specific voters, ensuring your strategy hits the mark every time. Compared to other platforms where you can get outbid and lose money, V2 extends budgets to their full potential.Besides the flexibility, your campaign can have a sense of predictability. Paladin's delegation address manages sizable voting power for CVX and AURA (also growing on LIQ). Leveraging our expert pricing recommendations, you can successfully secure the essential votes you need.
When in doubt…
Trying out Quest may come with doubts about fixed rewards. What if your vote quota isn't fully met? Calculating the optimal price per vote can feel complicated and time consuming. Overcommitting and dealing with fees might be another concern.
Projects can have the Paladin team guide their pricing strategy, tapping into historical data and market nuances. For urgent Quest creation, the UI offers an "advised price" feature. Remember, unspent rewards remain yours, saving you huge costs, a perk not found on other platforms. 
Still worried about fees? If your project plans on prolonged or high-volume incentives, fee cash backs are available. Everything you need to trial and expand your liquidity strategy is ready with V2's low-risk approach. 
Voters: Sweet Sweet Rewards
With V2 it'll be a breeze to sort through rewards and secure your vote in a Quest. The UI has been simplified with more details available. Rewards can be claimed anytime so you can stack your incentives week after week. Convex, Aura and Liquis voters can continue to delegate to Paladin's auto-voter for maximum convenience, as our delegation address optimizes rewards across all incentive platforms. 
Shortly after the roll out of V2, voters will have the opportunity to earn $LOOT and align with the Paladin ecosystem. Stay tuned for more info.
WEN
V2 is on its way! Follow the latest on twitter for release. 
🔜 Don't miss the latest: https://twitter.com/Paladin_vote
---
If you're a project gearing up for your first vote incentive campaign or ready to test Quest's potential, Paladin is here to help. Become a Paladin Partner and get access to all the guidance and support you need. 
🛡️Set up as a Paladin Partner: https://discord.gg/NBhD5KUkVk